Don Goldston gives us permits to publish in our blog his Tanzania buffalo hunt. A bit longer than typical posts, because is a diary, we think that we need to stay with the original idea and format from Don. Good reading !!
Thank you Don
The Adventurous Bowhunter team
28 June, 7:45 PM: Arrive at Kilimanjaro Airport with all my luggage and bowcase – may miracles never cease! Met by Ernest Digitata Ngoli of Rainer's Arusha office. Glad he was there, as the TZ government was busily changing all the rules daily. With a bit of grease and some fast talk he got me and my bow into the country.
Stayed overnight at the Mt Meru Hotel. Highly recommended.
29 June, 10:30 AM : Picked up by Ernest and transferred to the office, where we loaded the truck and took off for Mt Losimingoor. (I never saw this name spelled twice the same way, so you may see a lot of variants. Get over it – this is Africa!) Boscoe was the driver, an engaging young live wire like many young Tanzanians I was to meet in Rainer's employ. He taught me some useful phrases, and assured me my Swahili would impress the trackers. He was right – I made 'em giggle every day.
Rainer was stuck in Dar still trying to pry the hunting permits out of the gov't that was busily changing the rules to extort the last farthing out of the hunting industry. I had come early to see the mountain and get acclimatized a bit, so Rainer was staying where he was needed most.
We were e few weeks past the rains and the plains were already dried up and over-grazed by the Masai cattle and goats. It was a circumcision year, so there were many black-robed young men like these along the roads. The white-faced were circumcised and would be deemed men in a month, and the black-faced young men were soon to be circumcised. They were all "away from home" until the process was complete.
A young Tanzanian PH named Kepha greeted me at the Mountain Camp at the South edge of the forest. He was to find out that his license (along with most others) had been retracted by the same gov't ministry pending some mysterious review process.

The view from camp. Another volcanic mountain visible in the distance. I was to see Mt Meru twice from here, and Kilimanjaro very faintly once.
29 June, 3 PM: Kepha and the camp staff greet me. I ate a quick lunch, tested the bow, then went for a quick non-hunting walk up the mountain with Keffa (TZ PH) and Lorinyo and Lamaiba the principle trackers. It was a short walk, as Kepha had been completely taken aback by the fact that I was 60 years old. He walked like it was a funeral procession. We made about 1.5 miles round trip up to the nearest overlook/scoping point. It was probably only a 500 ft climb to that point. I got the mistaken impression that this was gonna be a cakewalk physically, since we stayed on the main ridge trail. The bush along the ridge was thick and the bermuda grass was between knee and waist high. It was easy to see why the buff like the mountain. The contrast with the sere plains was dramatic. Saw no buff in the distance. Lorinyo did not want to go higher for fear of bumping buffalo we could not shoot.
Pic from the overlook
29 June 7:30 AM: Awakened for a nice breakfast, practiced with my bow and sorted and arranged my gear in the morning. Mist broke up at about 9:30 AM. After lunch went for a stroll below the camp. 3.1 miles total and about 2000 ft total elevation change, in 500 ft sections. Saw 1 bushbuck(F), 9 eland (F), two groups of Mtn Reedbuck (1M/1F; 1M/4F), and two zebras. The Masai herdboys below camp came up to beg us to kill a zebra and give them the meat.
30 June 6:00 AM: Awoke before the camp to a very heavy mist/fog envelopment. This was to be typical of the weather here, although some days the it was more fog than mist and vice-versa. On misty days it was very wet and my gaiters would be flooded from the top in the waist-high sections of the bermuda grass.
This was the last of my pre-hunting days and Kepha and I climbed the ridge to the old mountain-top camp. This was a 6.7 mile round trip from the camp at 6100 ft to the mountain top at 7200 ft, the ups and downs along the ridge trail doubled the total elevation change from 2200 ft (+/-1100) to 4400 ft according to my Garmin. Still it was all on a main trail so the walking was relatively easy. Since we were often travelling at a stalking pace to sneak up on bushbuck and to avoid bumping buffalo it took three hours to get there, and three hours back. Again Kepha would not let me break a sweat. "I must deliver you back safely to your grandson." We saw several bushbuck, but no buffalo. A lot of buffalo sign.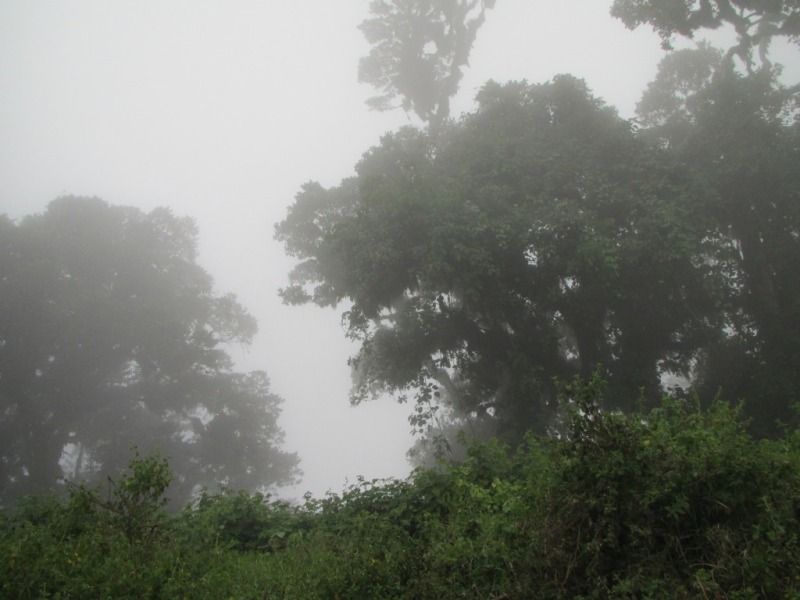 Rainer arrived in camp in time for a late supper, still no permit, but he had the permit number and a willing game scout, Molel. Molel turned out to be a hunter and a valuable addition to the team. Not a common occurrence in my experience.
1 July 0530: 5:30 AM is to be the usual awakening time, breakfast at 0600, depart at 0630-0700 depending on prep and planning time. Excellent breakfast of toast, omelet, fresh fruit, yogurt, coffee, tea and juice. I'd had opening day jitters all night like a 14 year old kid, and had gotten almost no sleep. We left camp out the west side down a 30 degree slope with no trail in knee-high grass hiding loose soft-ball sized rocks. (Hereafter known as Bitch Hill.) I knew I was in trouble before we hit the bottom of the slope. The day was all cross-country with about 3800 ft of total elevation change. Like an idiot I had refused to take walking sticks, since on the trails they'd just been a burden. They'd have been invaluable cross-country. To add to my stupidity I did not drink enough fluids even though I knew I needed to average at least a liter every two hours. We went down the hill and climbed a ridge to the west, bumping a lone bull that we never saw. From the tracks Lorinyo thought it was an old nemesis with a drooping horn that they'd hunted unsuccessfully with a rifle several times. The old bull circled downwind, got our scent and scarpered. He was within 20 yards of us but the bush was so thick we never got a glimpse.
The dream team: (L-R) Kepha, Lorinyo, Julius, Lamaiba, Molel
This was the only buffalo we saw or bumped that day. At about 2 PM that afternoon I told Rainer that I was all-in, and that we'd better head to camp unless he wanted to carry me. It took me until dark to struggle back to camp. The total day was again 6.7 miles, with only 3800 ft total elevation change, but the combination of no trail with bermuda grass from knee to waist high hiding rocks on 30 degree slopes totally kicked my ass. The return up Bitch Hill took me 30 minutes.
I'd basically stumbled and staggered all day, and recovering my balance thousands of times did me in. From then on I carried the walking sticks, and they were invaluable.
2 July 0530: I'm using CYTOMAX powder in my trail drink and RECOVERITE drink mix when I get back to camp. I think the stuff must work gang-busters, as I know from elk hunting experience that days like yesterday can hurt me for several days. I seem full recovered and ready to go. I slept like a log.
The plan for today is run the ridge back to the Northern slope. Molel wants me to kill a bushbuck for camp meat, so we are travelling a little slowly and very silently. There's never any talking, just a quiet hack from Molel every once in a while. We saw several bushbuck, but never got a shot. After we crossed the divide the grass was a bit shorter and the bush not so thick. Mist lifted at 11:30 AM. No buff sign at the top water or the North water. A relatively easy day staying on the ridge trail for the most part. Today was 8.3 miles and 5200 ft elevation change. Saw a herd of bedded buff about 2 miles off on the way back to camp, but too far and too late to pursue.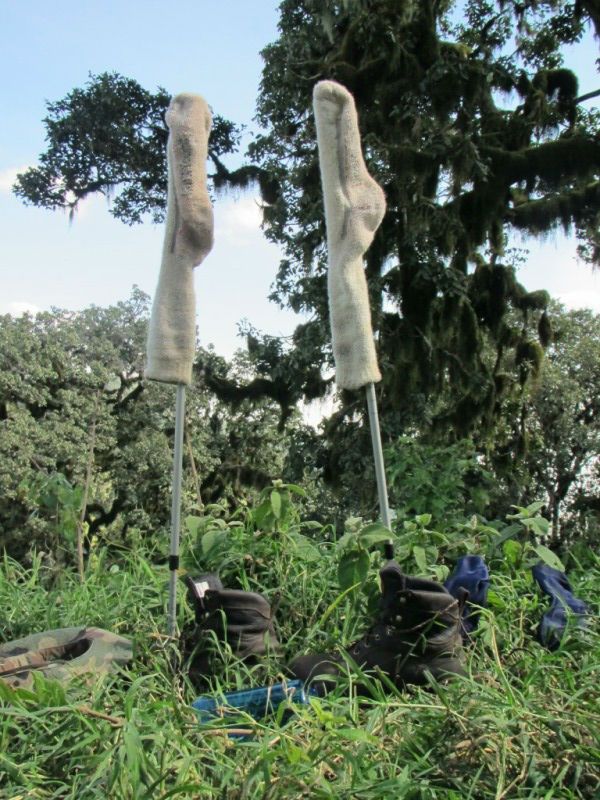 Typical lunch break after the mist lifts: drying socks and moss-covered trees.
by Don_G